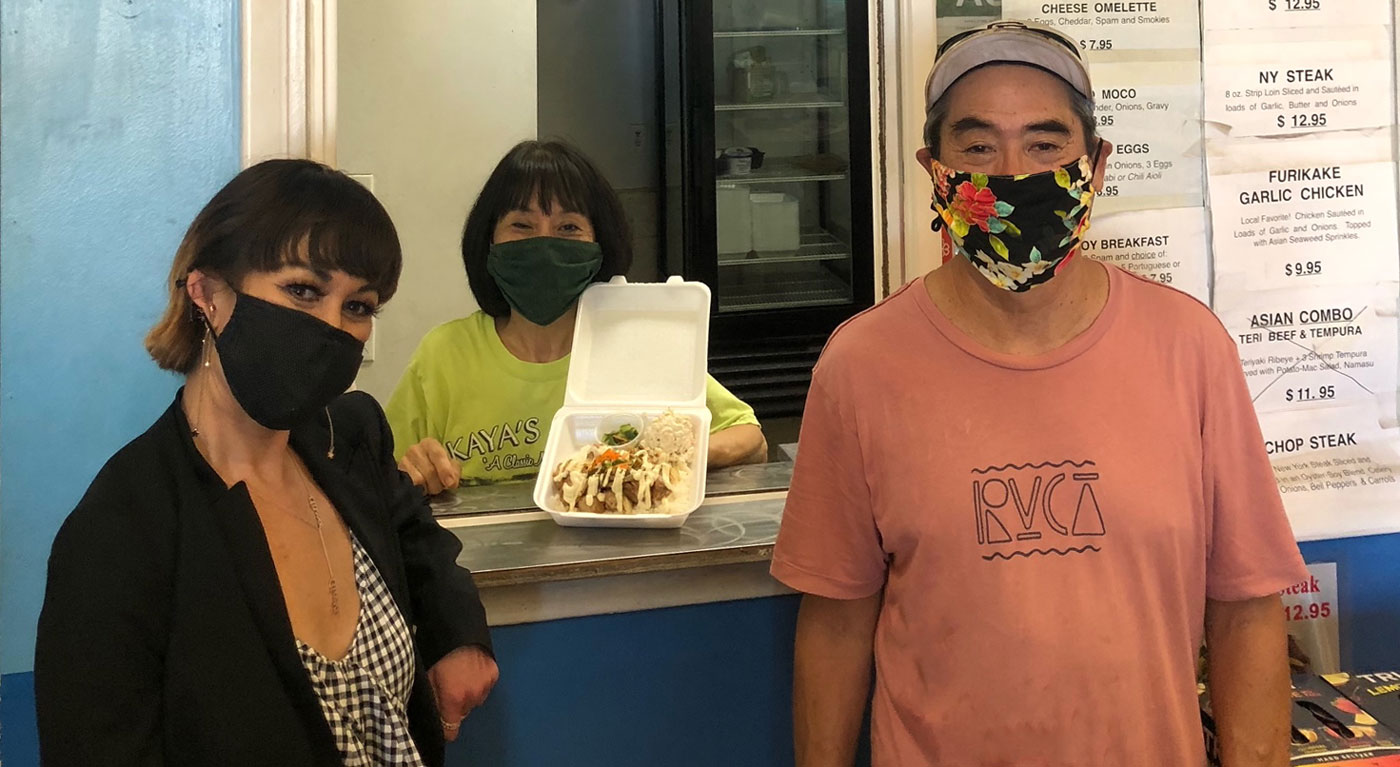 Celebrating 75 Years of History with Kaya's Store in Punalu'u
Walking into Kaya's Store in Punalu'u, you'll see Bev (pictured above, in the center; also pictured below), known as Aunty Bev, doing a myriad of different tasks from cooking breakfast and all-day lunch to tending the cash register, and even running food orders out to waiting cars. From 7:00 am until 7:00 pm, you can be assured that Aunty Bev ensures her store provides quality service, where each and every customer leaves with a full belly; shelves are stocked with local favorites like lemon peel coated gusher candies; and the store and kitchen exceeds every Yelp review posted. But this is what Aunty Bev does best. And this this is where Aunty Bev has called home, from her keiki (childhood) days, when her parents, Bill and Ethel Kaya ran the store.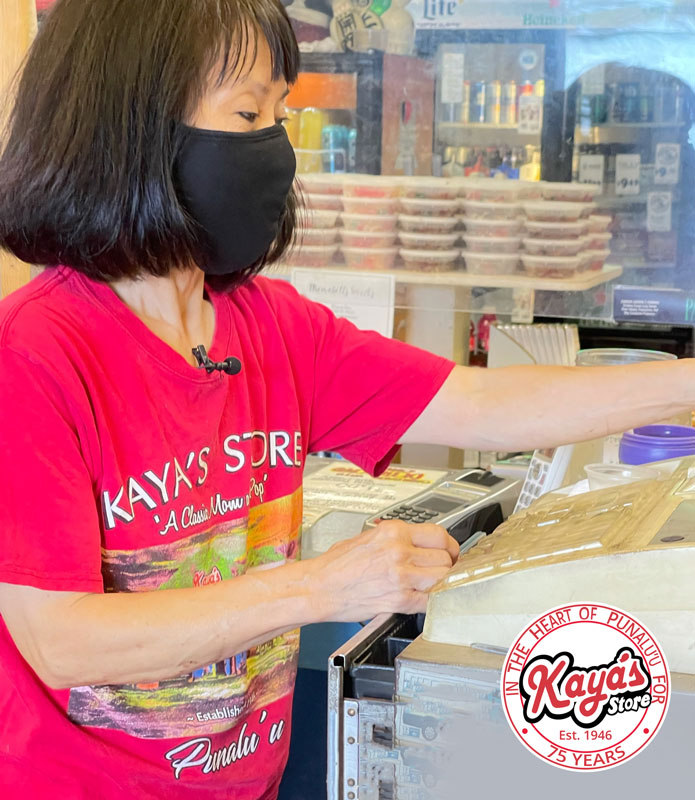 Named after the Kaya family surname, Kaya's Store was built in October 1946. Bev's Father, Bill and her Uncle Robert decided to join together to construct both a store and house, which are still standing in its current location. Originally, the store mainly carried hardware supplies with a few general items. Today's kitchen had its humble beginnings as a butcher room, where Bev's uncle sold various cuts of fresh meat to the Punalu'u community – from steaks to pork and more. Bev's parents, Bill and Ethel, were married in 1951 and continued to manage their namesake while growing the Kaya family.
With the introduction of commercial hardware businesses between Laie and Kahuku in the 1990's, Bev's father was forced to make a tough decision and closed the small hardware store. Kaya's store was then turned over to Bev and her husband, Vern (pictured above, on the right). Her father's hardware supplies were replaced with sundries and a Subway franchise in the former butcher's room.
In 2015 Kaya's Kitchen was born, when Aunty Bev went from making musubis* and bentos** to making take-out meals, or local favorite plate lunches. Since then, Kaya's Store became known for its outstanding, delicious local food that people drive from miles around to get, and visitors fly in from around the world to taste. Along with 4 food trucks, Coconut Joe the "Fruit Guy," the burger corner, the Monarch Tattoo Shop, as well as an auto repair shop behind the main building, Kaya's Store has been a staple in the community for 75 years. When you visit this charming country store, it's like making a trip home with feelings of aloha, warmth, and the happiness from a good home cooked meal. Thank you for making us feel at home, Aunty Bev and Vern.
* A popular local snack or lunch made of a ball of rice shaped into a triangle or rectangle, topped with meat or other toppings and wrapped with nori seaweed. Named after Japanese onigiri, or rice balls, it is also known as omusubi.
**Japanese-style packed lunch with rice, vegetables, meat or fish, and condiments.
Supporting Children in Hawaii
A portion of the proceeds from Kaya's Store goes to benefit charities in Hawaii. Kaya's Store believes strongly in helping at risk children in Hawaii.
✪✪✪✪✪
"Located in Kaya's store is a little kitchen that sells local favorites and other dishes. Their menu is pretty small but there is enough to choose what you're craving. They also sell breakfast.
We decided to stop here and try out their food. We were a bit confused because yelp took us to the store and once entering you can see the kitchen on the right. We ordered the chop steak and the furikake garlic chicken. Once we ordered you pay at the front in the middle of the store. We waited outside where there are benches to sit while you wait for your food. It didn't take to long before the food was delivered to us and we ate under the tarps by Aloha Shrimp.
The food looked amazing. We opt for fried rice for both plates since many other yelpers like their fried rice and we were glad we chose it. It was really good. The chicken with the combination of furikake and garlicky flavor was so good it made me wanting more. The chop steak was okay. They do season the steak and vegetables and it is noticeable but not bad. The fried rice goes well with it. Everything was fresh hot, size was good for the price and the quality of the food was very good.
Obviously a gem since it's not really noticeable. I would totally recommend their food. Living across the island it's not everyday we can stop by here but when we get the chance to we sure will again. I seen many reviews of the garlic shrimp so that would be good to get especially for those going ATI."